Federal Reserve: FOMC Announces Taper at November Rate Decision
Federal Reserve Rate Decision, November 2020
The Federal Reserve

announced a start to tapering asset purchases at the November rate decision today.
The long-awaited rate decision is here, and the FOMC has just issued their statement to announce a start to tapering asset purchases to the tune of $15 billion per month. This puts the bank on schedule to finish tapering in H1, 2022.
As Chair Powell has said multiple times in the past, tapering and rate hikes are different matters altogether, but by finishing bond buys in the first half of 2022, the bank is on track to begin hiking rates later in the year.
The motivation to tighten policy is brought on by persistently strong inflation numbers, which haven't turned out to be as transitory as the Fed would've liked after inflation spiked above 4% in April. CPI printed at 5% for May and since then, there hasn't been a print below 5.3% and last month saw inflation tick back up to 5.4%.
The Fed's inflation target has long been 2% but last year the bank adjusted their strategy to instead focus on average inflation targeting, giving them more operating room considering the economic dynamics around the pandemic. But that additional operating room appears to have not helped matters regarding inflation and the question now is how quickly the bank may be looking to normalize rates should inflation not begin to pull back in the near-term.
US CPI Since September, 2020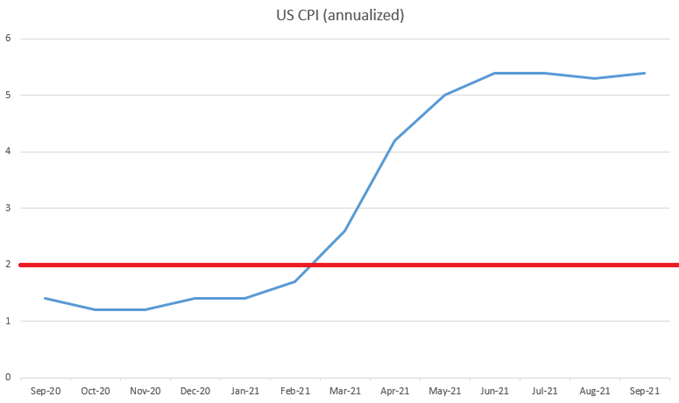 Chart prepared by James Stanley
USD Initial Reaction
The initial reaction in USD has been a quick bearish shot, suggesting this was already rather priced-in to the equation. The presser is where things can get interesting for the USD as the focus will be on Powell's comments and whether he hints towards more than one rate hike on the horizon for 2022.
US Dollar One Minute Chart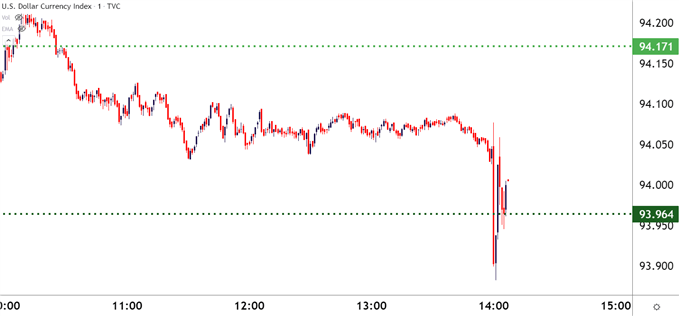 SPX Bullish Initial Reaction
2:12 PM ET
Going along with that USD weakness was a quick shot of equity strength with the S&P 500 briefly touching up to another fresh all-time-high. The move has since pared back a bit, but still net positive since before the statement release.
SPX 15 Minute Price Chart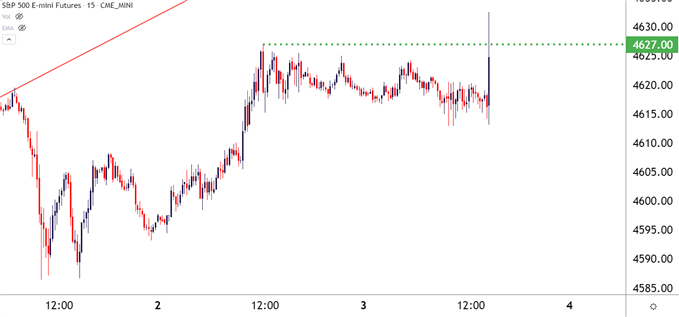 Updates following…
DailyFX Resources for November FOMC:
Live Data Coverage: November Federal Reserve Meeting, Rate Decision
Markets Around the November Fed Meeting – The Macro Setup
S&P 500, Dow Jones & Nasdaq 100 Forecast: Outlining Opportunity
USD/JPY Trades in Bull Flag Formation Ahead of FOMC Rate Decision
— Written by James Stanley, Senior Strategist for DailyFX.com
Contact and follow James on Twitter: @JStanleyFX